Lead by Learning.
Contact

Wij zijn telefonisch bereikbaar tijdens kantooruren.

Maandag t/m Donderdag
10:00am tot 7:00pm

Vrijdag
8:30am tot 5:30pm

Tel: (297) 588-0541
All-round Administrative Assistant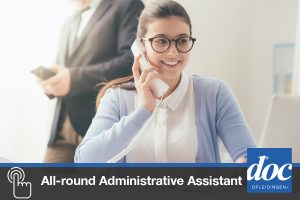 Many organizations are downsizing and working only with the best. In order to be indispensable within an organization as the All-round Administrative Assistant you need to acquire and broaden the following skills:
Excellent verbal and written communication skills
Exceptional interpersonal skills and strong team orientation
Exceptional organization and time management skills
Ability to prioritize, handle multiple projects and tasks with accuracy, work independently and maintain confidentiality
Strong attention to detail and follow-up skills
Ability to interact with senior level executives with composure and confidence
Must be team oriented and able to function in a fast-paced, ever-changing environment with a consistently positive and professional attitude
Willingness to learn and adapt to new responsibilities
doc Opleidingen offers a unique course that will provide you with the necessary tools and skills to become the professional assistant that everyone relies on.
The course is facilitated by professionals within their own field, sharing their knowledge and experience. The course consists of 2 modules (Module Communication & Personal Efficiency and Module Organizational Skills) of each 11 weekly sessions of two and half hours. Upon successful completion of the exam for each module you will receive a certificate: completion of both modules will result in a diploma.