Lead by Learning.
Contact

Wij zijn telefonisch bereikbaar tijdens kantooruren.

Maandag t/m Donderdag
10:00am tot 7:00pm

Vrijdag
8:30am tot 5:30pm

Tel: (297) 588-0541
Employment Opportunities at Doc Opleidingen & Trainingen
Lesgeven bij doc Opleidingen?
We zijn altijd op zoek naar academisch geschoolde en gemotiveerde docenten. Uw kunt via email een open sollicitatie sturen naar info@docopleidingen.com
May 2019: Employment Opportunity Administrative Assistant (Part-time)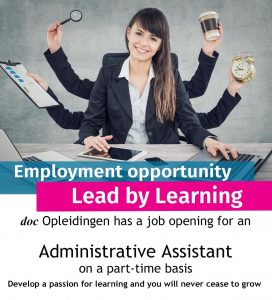 Develop A Passion For Learning And You Will Never Cease To Grow
About the position
Organizes daily activities to assure efficient operations; provides information to management, facilitators, students and the public via email, phone and in person.
Plans, coordinates and assists in the preparation and maintenance of class schedules, room assignments, textbook orders and associated paperwork; registration forms, invoicing and AR.
Performs related duties as assigned.
Technical skills required:
Microsoft Office
QuickBooks
Basic bookkeeping
Proficient in English and Dutch
Keeping records
Soft skills required:
Ability to complete work efficiently with many interruptions
Ability to plan, organize and prioritize work
Able to maintain confidentiality and work with discretion
Time Management
What we offer:
Part-time flexibility
Competitive wages
Opportunity to learn and participate in courses
How to apply:
Please submit your resume (CV) and an application letter to
info@docopleidingen.com.