Lead by Learning.
Contact

Wij zijn telefonisch bereikbaar tijdens kantooruren.

Maandag t/m Donderdag
10:00am tot 7:00pm

Vrijdag
8:30am tot 5:30pm

Tel: (297) 588-0541
Basic Hospitality Skills for Hotel and Restaurant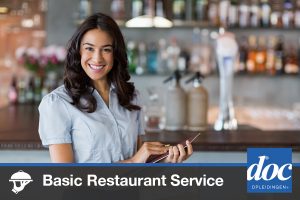 Target group
Everyone who works or wants to learn how to work in the hospitality industry
Course Description
Working in the restaurant business is fun and rewarding: this course prepares you to enter the industry, providing you the basic skills to become a professional in the hotel & restaurant industry. You learn of the preparation of the restaurant, the basic beverages that guests will ask for and the different serving skills you might be required to use.
Course Overview:
What does it mean, working in hospitality industry? What type of companies does it entail and what skills are required?
Serving food and beverages
Knowledge of food and beverages
Hygiene in the work place: working safely and responsibly.
Importance of guest service & hospitality